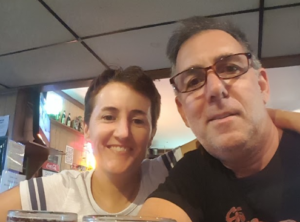 Zoe and Eric Schechter enjoy outdoor sports and are avid motorcyclists that have been vacationing in this area for many years and became full-time residents in 2015 when they purchased the adjacent property and made it their forever home.
They live with their 5 dogs and 6 chickens, 7 motorcycles, enjoy gardening and hosting guests..
In 2019 they purchased this property with the desire to operate a vacation cabin that provides an exceptional experience for their guests and where they can share their love for the mountains. We are less than 5 minutes from town, yet very secluded in the mountains!
We are pet and motorcycle obsessed!